6
CONCRETE FOUNDATIONS, RETAINING WALLS, DRIVEWAYS, WALKWAYS,PATIOS and more
RESIDENTIAL AND COMMERCIAL
CONCRETE CONTRACTOR Clearwater FL
KB Builders Inc.,. is your one stop installer of concrete driveways, concrete patios, concrete walkways, slabs, and foundations in all of Tampa Bay FL Serving Pinellas, Hillsborough and Pasco counties.
We provide full design and installation of elegant stone and brick patios, stamped concrete driveways with colorful brick inlays and textures, and stacked stone driveway entrances with an array of popular finishes. We also specialize in the repair of cracked or broken concrete sections of driveways and walkways,. We can raise your sinking front steps and fix your sinking garage floor. Whether it needs to be fixed, patched, raised, leveled, torn out and repoured, or just done right the first time. If you are looking for a trustworthy, professional, concrete finishing contractor to work on your driveway, sidewalk, patio, stairs or any other concrete finishing in the Tampa Bay area, you are at the right place.
The concrete choice has expanded to include a multitude of decorative concrete options. While plain gray concrete is still the most often installed, let KB Builders Inc.,. give you some Head Turning alternatives. Don't feel left out if you already have a driveway. The concrete industry has rapidly developed many decorative products that can be applied to existing plain grey driveways.
KB Builders Inc. also specializes in artistic and decorative concrete finishing work. Our professionalism and reputation for high quality concrete finishing work will help you find the best solution for your pool decks, driveways, sidewalks, patio or stairs. KB Builders, Inc. is an established Florida Licensed (#CBC1252759) and Insured Building, Remodeling + Restoration Contractor throughout the state of Florida regardless of size and complexity of the job.
We provide FREE ESTIMATES.
727-400-9660
*KB Builders, Inc. will meet or beat any documented reasonable bid from a licensed and insured competitor.
DECORATIVE CONCRETE CLEARWATER FL
Decorative concrete is a new way to add appeal, value, and sophistication to your home. Stamped concrete is a system of adding colors, patterns and textures to a plain concrete slab at the time of pouring. The concrete is poured, colored and then imprinted with a stamp to create the appearance of natural stone. Many different textures are available that simulate slate, granite, brick, cobblestone, or even custom designs and imprinted in concrete. Borders can be created for plain, matching or contrasting patterns. This technique can also be applied to stairs and ramps.
This process creates a finished stamped concrete surface with an attractive, three-dimensional, two-toned appearance.
Once stamping is completed, a protective sealant is applied that allows the new concrete to resist oil, water, mildew, and stains. This protective sealant further improves the overall strength of the concrete and gives the surface an attractive "wet-look". An anti-slip finish can also be applied.
If you don't like the fancy and rich look of stamped concrete, you can add charm to your concrete using our colored exposed aggregate or broom finish. We offer many of different colors of aggregate and decorative borders by broom finish.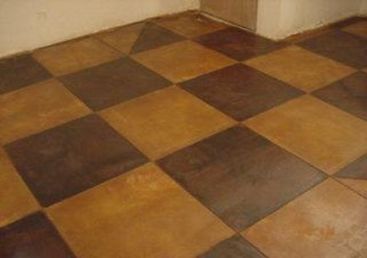 Concrete Surfaces:
Interior subflooring, Garage Floors, Exterior Walkways, Patios, Steps, Interior Finished Floors, Driveways, Parking Areas, Pool Decks, Entranceways and more.
Decorative Concrete Clearwater:
Nothing beats a decorative concrete floor for durability and good looks. Concrete is versatile, strong, stain-resistant and low-maintenance, perfect for residential and commercial applications.
Decorative Services:
Chemical Staining-Variegated colors are created through this process.
Stamped Patterning-Transforming concrete by creating patterns that imitate stone, tile or brick.
Concrete Polishing-Diamond grinding and polishing technology creating a smooth, high luster floor finish.
Decorative Saw Cutting-Make precision cuts across plain or decorative concrete.
Concrete Overlays-Old concrete can look new again with restoration techniques.
Decorative Concrete Options for New Driveways
• Stamped Concrete
• Concrete Engraving
• Exposed Aggregate Finishes
• Colored Concrete
• Intricately sawed or grooved patterns
• Concrete Stains
• Interlocking Concrete Pavers
Other Services:
Interior Masonry / Exterior Masonry
Architectural
Brick Chimneys
Brick Repair
Brick Walls
Concrete
Crushed Shell Stucco/Fireplace Front
Custom Driveways/ Walkways
Entrance Piers
Fireplaces
Footers
Foundations
Glass Block
Grills
Hardscape
Mailboxess
Masonry Restoration
Patios
Pavers
Ponds
Pool Decks / Patios
Porches
Privacy Walls
Retaining Walls
Signage
Sink Holes
Sound Walls
Steps
Stone Entry Walls
Stone Walls
Stone Veneer
Tile
Tuck Pointing
Veneers
Water Features
and more...
Call KB Builders Inc., today for your

813-360-3151
727-400-9660
*KB Builders, Inc. will meet or beat any documented reasonable bid from a licensed and insured competitor.